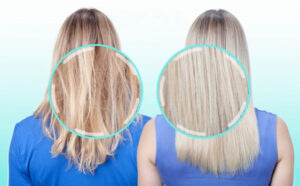 Do you have well water or hard water that is turning your hair coppery or brassy? If so, the same water that you shower with carries extra minerals like calcium, copper, and iron. These minerals build up in your hair resulting in breakage, lighter hair take on a brassy hue, or dry scalp and skin.
A good way to remove this buildup and start with a clean slate is by getting a Malibu Hair Treatment. A Malibu Treatment will typically remove excess build-up in your hair caused from hard water, chlorine from swimming pools and water softeners. This treatment is great for prepping hair for color, perms and relaxers. Because it removes buildup, it will make room for these processes. This treatment is safe and especially beneficial for blondes and children.
Get the most effective Malibu Treatment by visiting your stylist at Salon Artigiano. A packet of Malibu hair treatment consists of granules that are mixed with water and rubbed into the hair. Stylists usually allow the treatment to process under a hair dryer for at least 30-40 minutes. Depending on the length and thickness of your hair, processing time can vary.
Salon Artigiano offers a Malibu Treatment for only $15 or $40 with blow dry services. Make your appointment today!